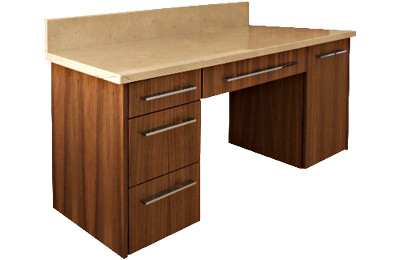 Ernest Thompson first made his name in the early 1970s building beautiful, custom furniture in his workshop and showroom in Albuquerque's south valley. By drawing upon 400 years of New Mexico woodworking heritage, Ernest was able to create furniture that not only looked gorgeous, but was also more durable than any mass produced product on the market. Since first starting his one-man workshop in the 70s, Ernest Thompson has partnered with some of the Southwest's best furniture designers to create the region's premier furniture company, Ernest Thompson Furniture.
Starting in the 1990s and early 2000s, Ernest Thompson Furniture began applying their furniture building techniques to crafting cabinetry. Once again, they found themselves producing a finer product than any on the market. Today, Ernest Thompson's commitment to beautiful, quality craftsmanship is kept alive through our latest venture, Ernest Thompson Cabinets.
At Ernest Thompson Cabinets, we are dedicated to producing the finest in custom cabinetry, uniquely designed for our client's wants and needs. We accomplish this through not only our original design, but by also remaining committed to using only the finest materials and building techniques. By never compromising our commitment to innovative, durable design, we are confident that when you are looking for someone to make and install your new cabinets, that we remain the only choice for cabinets that not only look fantastic, but are also built to last. So the next time you are in the market for new cabinets, trust the name that has been synonymous with quality for over 40 years – Ernest Thompson Cabinets!
We invite you to browse some of our existing work, and feel free to contact us if you are looking to start your new cabinetry build.